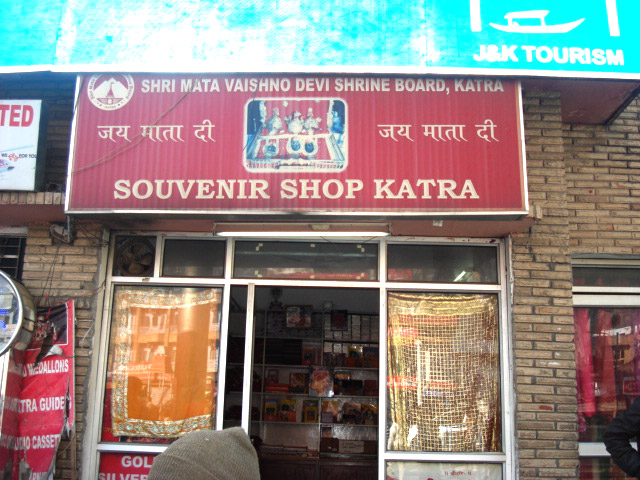 For yatries who wish to carry with them mementos of the great pilgrimage, the Shrine Board operates Souvenir Shops at Bhawan, Sanjichhat, Adkuwari, Katra bus stand and at Vaishnavi Dham (Jammu). Chunris, Cholas, Saris, shawls which have been offered to the Holy Goddess are available at these Souvenir Shops at nominal prices. Pilgrims can obtain them and preserve them as souvenirs or can place them at the place of worship inside their houses.         

Besides, other exclusive items available at the Souvenir Shops include, audio cassettes, CDs, various publications of Shrine Board, laminated photos of the Holy Pindies, Jute Bags, Bangle Chura etc. Yatries may take notice that all these items are exclusively available at the Souvenir Shops of Shrine Board and are not available at any of the private shops.         

The Shrine Board has developed Gold and Silver coins of guaranteed purity. These coins carry an impression of the Holy Pindies and are made of Gold or Silver offered at the feet of the Goddess. These coins are available at the Prashad counter just outside the Holy Cave and at all the banks at Bhawan. The rates of the coins depend on the denomination chosen and the prevailing gold/silver rates.
 Yatra Guide
CDs (Aarti Audio)         
 
Cassettes (Bhajanamrit)        
 
Silver Coin
Gold Coin
Photos         
 
Aarti Booklet
The above items are available in Shrine Board's Souvenir Shops at following locations:-        

Airport Jammu, Vaishnavi Dham Jammu, Saraswati Dham Jammu, Near Yatra Registration Counter Katra, Trikuta Bhawan Katra and Bhawan.