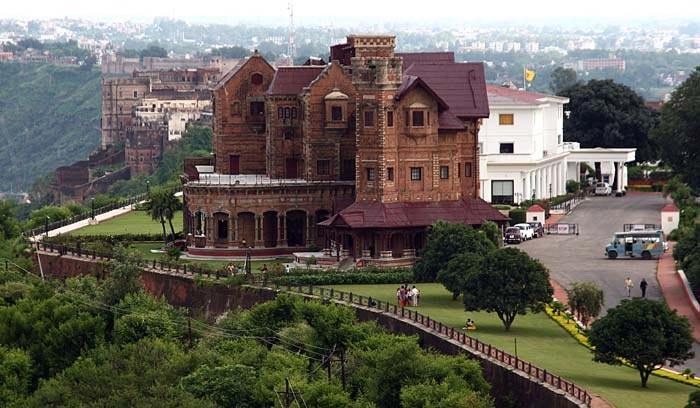 Raghunath Temple
Situated in the heart of the city and surrounded by a group of other temples, this temple dedicated to Lord Rama is outstanding and unique in Northern India. Work on the temple was started by Maharaja Gulab Singh, founder of the Kingdom of Jammu and Kashmir in 1835 AD and was completed by his son Maharaja Ranbir Singh in 1860 AD. The inner walls of the main temple are covered with gold sheet on three sides. There are many galleries with lakhs of 'Saligrams'. The surrounding Temples are dedicated to various Gods and Goddesses connected with the epic Ramayana.
Ranbireshwar Temple
 
Located on the Shalimar Road near the New Secretariat, and built by Maharaja Ranbir Singh in1883 AD, Ranbireshwar Temple is dedicated to Lord Shiva. It has one central 'Lingam' measuring seven and a half feet height (7.5 ft.) and twelve Shiva 'Lingams' of crystal measuring from 15 cms. To 38 cms. and galleries with thousands of Shiva 'Lingams' fixed on stone slabs.
Amarmahal
This is a beautiful palace of red sand stone which stands amidst the most picturesque environments of Jammu. There is beautiful view of the Shiwaliks at the north and the River Tawi flows down below. adding to the Grandeur. This was once the residential palace of Raja Amar Singh. the palace has been converted to a museum and is looked after by Hari-Tara Charitable trust. The museum has a golden throne made of 120kg pure gold sofa and has golden lions embedded into it. The throne is placed in a hexagonal room.

The museum has a gallery of paintings known as NAL DAMYANTI. It has a library of around 25000 books on various subjects and disciplines. This is a beautiful spot to be visited round the year in Jammu. Hotel Hari Nivas Palace Hotel :A heritage Hotel is also located adjacent to this place.

How to Reach

Taxi/Auto Rickshaws from anywhere in the Jammu city can take you to this place on payment of nominal charges. Minibuses also ply but are not allowed to enter the Palace complex so you have to walk upto the palace .

Timings:
Winter
1000 to 1200hrs. and 1500 to 1700 hrs.

Summer
1700 to 1900 hrs.
Sundays : 1000 to 1200 hrs.

Closed

State Holidays and Mondays.

Exhibits

Pahari paintings, family portraits of rulers of Jammu and Kashmir, a library. Of interest by itself is the building, a former palac
Bahufort/Temple
5 kms from Jammu city situated on a rock face on the left bank of the river Tawi, this is perhaps the oldest fort and edifice in the city. Constructed originally by Raja Bahulochan over 3,000 years ago, the existing Fort was more recently improved and built by Dogra rulers. There is a temple dedicated to Goddess Kali inside the fort popularly known as Bave wali Mata. The fort overlooks river placidly down the Jammu city. Every Tuesday and Sunday pilgrims throng this templeand jostle for Tawi flowing worship. Bave Wali Mata is the presiding deity of Jammu. One can really imagine, on looking at the fort, the wars fought, the invasions prevented and even the grandeur of the Royal families.

Today the fort is surrounded with beautiful terraced garden which is favourite picnic spot of the city folk. It has waterfalls, flowers and big trees.
Maha Maya Temple and City Forest
On the by-pass road behind Bahu Fort, the city forest surrounds the ancient Maha Maya Temple overlooking the river Tawi. A small garden surrounded by acres of woods provides best view of the city.

How to Reach

This place is connected with all the spots of the city. Regular transport is available from all the connecting points. Minibuses and Autorickshaws can take you right upto the fort on payment of nominal fare.
Mansar Lake
60 kms. A beautiful lake fringed by forest-covered hills. Boating facilities are available on the spot. Every year around Baisakhi, a food and crafts festival is organised here by J&K Tourism.

Facilities:

Accommodation
 
Tourist Bunglow and huts of J&K TDC

Double bedroom

Suite/Hut
Food and Beverage Services

Restaurant serving Indian food of choice.