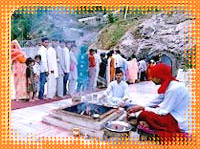 On persistent demand from yatries and taking into consideration the sentiments involved, a system of individual Poojan has been introduced. This new Poojan system accommodates the religious sentiments associated with the pilgrimage and is in line with the system being followed at some other revered places of worship.      

Under this Poojan Scheme, every morning, a Hawan/Poojan is performed in the Yagyashalla. Desirous Yatries are allowed to participate in this Havan and their name(s), gotra etc. are then chanted and prayers offered for their welfare and prosperity.      

A variant of this Poojan is also allowed whereby the devotee need not be physically present. The Poojan is performed in his name and the Prashad is sent to him by post.

Category A: Poojan of Rs. 2100/- Devotee need not be physically present      

Click Here to Book Online.
Poojan is performed in the name of the person(s) for/by whom Pooja has been registered even while the devotee(s) is not present in the Pooja. The Poojan Prashad is sent through courier to the given address.     

Poojan can be booked for any day. The facility remains open for whole of the year and the Poojan can be booked in advance or on current basis subject to availability of slots.     

A maximum of five names from a family can be given for the purpose. These are then chanted during the course of Havan/Poojan.     

Category B: Poojan of Rs. 11000/-     

Click Here to Book Online.    

Under this Poojan scheme, the devotee has to be physically present in the Poojan. He/She can attend the Havan/Poojan himself/herself along with a maximum of four (total five) of his/her family members.     

Report Room no.8 at Bhawan before 08:00 am about the timings of the Poojan and in case he/she fails to reach by the time, he/she forfeits his/her claim.     

Advance booking is allowed for this category of Poojan. Spot booking is also allowed subject to availability of slots.Please Note:
Devotees can book their slots on online from our official website uat.maavaishnodevi.org
Click Here to Download the poojan form. You are requested to confirm the offline availability at.



Officer Incharge (Enquiry and Reservation)     
Shakti Bhawan, Niharika Complex (Near Bus Stand)     
Shri Mata Vaishno Devi Shrine Board, Katra - 182301 (J&K)     
Phone: 01991- 234053     
E-Mail: dm_enquiry@maavaishnodevi.net