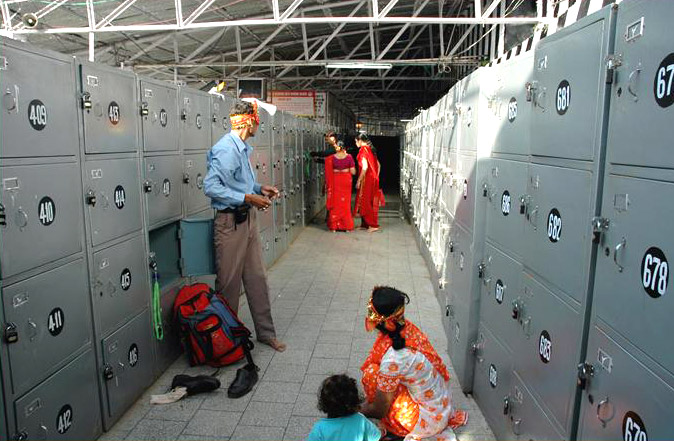 Considering that many yatries would like to leave behind their excess luggage in Katra before undertaking the Yatra, Shri Mata Vaishno Devi Shrine Board has provided for free cloak room facility in all its guest houses/ lodging places. Cloak room facility is also offered by many hotels and lodges. Certain private Sarais, shops and establishments also claim to offer such facilities but yatries are advised to reassure themselves of the credentials of the service provider before entrusting their luggage to them. 

As a general suggestion, Yatries are advised to travel light. Since all necessary food and travel items are available en-route and at Holy Bhawan, Yatries need not carry any items, not even Prashad. Blankets, foodstuffs et al are readily available and there is no need to carry anuthing except personal clothing and important items if any. Most of the luggage and other items can be deposited in cloak rooms (preferably official Shrine Board cloak roms at Katra itself.)
In particular, video cameras and mobile phones, besides other electronic equipment are not allowed on the track for security reasons. Yatries must make adequate arrangement for the safe keeping of such equipments before embarking on the yatra. 

Free cloak room facilities are available at the main Bhawan complex also. There are at least two cloak rooms which are functional round the clock. There is a cloak room located just opposite to the main queue complex (gate No.1). This cloak room can be used for depositing shoes, belts, combs and all other items that are not allowed in the Holy cave. In addition, another cloak room is functional in Sridhar Bhawan. Yatries can deposit their entire luggage here before proceeding for Darshans. However, yatries are advised not to keep their cash, jewellry, valuables or electronic items amongst the deposited luggage. All cloak room facilities are absolutely free of cost.