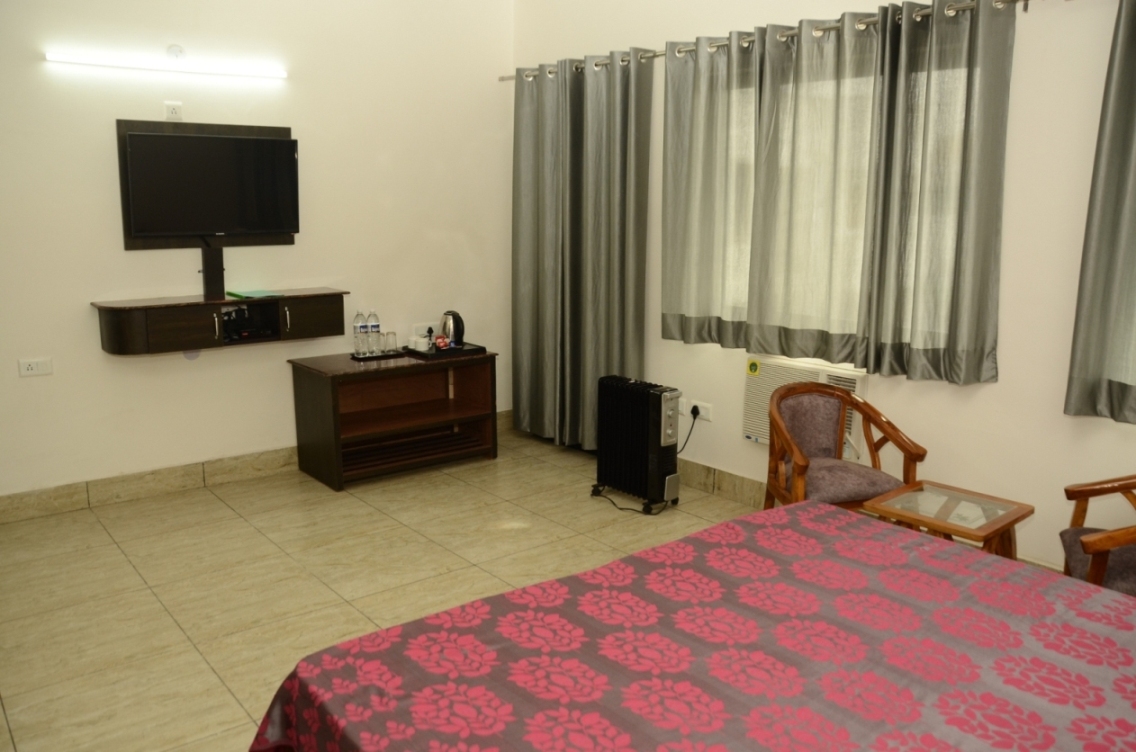 For the benefit of the pilgrims, Shri Mata Vaishno Devi Shrine Board provides clean, well maintained and very economical accommodation. This accommodation is available at Jammu (at Vaishnavi Dham,Kalika Dham and Saraswati Dham near Railway Station), at Katra (at Niharika, Shakti Bhawan and Ashirwad Bhawan situated at the Bus stand) Katra. Another 700 bedded accommodation, Trikuta Bhawan, Katra is available for the Yatries. This building is situated near the 2nd Yatra counter (YRC II), Katra.  Spiritual Growth Centre, Katra is available for the Yatries. This building is situated near Asia Chowk (approx. 1 km from Main Bus Stand  Katra). Accommodation for the Yatries is also available at Adkuwari, Sanjichatt and Bhawan.

The available accommodation is in the form of rooms of various types, huts , suites and beds (dormitory accommodation). Rooms, both air conditioned and Non air conditioned are available. Dormitory accommodation is available at Katra, Adhikuwari Bhawan and Jammu. In all the accommodation units provided by Shrine Board, there is an additional facility of a hygienic, no profit no loss Bhojanalaya besides a Souvenir Shop and a free cloak room. 

Accommodation for all Shrine Board Guest houses/dormitories can be booked (subject to availability) at the reception of these guest houses or at the Enquiry and Reservation counter at Niharika complex. Online booking is also possible through this website. For maximum chances of obtaining confirmed room reservations at various locations devotees are advised to make the necessary bookings well in advance. In addition, since heavy rush is experienced on weekends and holidays, pilgrims are advised to plan their Yatra on weekdays.
LOCATION
COMPLEX
ROOM TYPE
TARIFF(Rs.)
Jammu
Vaishnavi Dham
Double Bedded, AC
Rs. 1500/-
 
 
Suite, AC
Rs. 2000/-
 
 
Dormitory (Per Bed Basis)
Rs. 150/-
 
Saraswati Dham
Dormitory (Per Bed Basis)
Rs. 150/-
 
Kalika Dham
Double Bedded AC Room
Rs. 1500/-
 
 
Dormitory  (AC) (Per Bed Basis)
Rs. 200/-
Katra
Niharika
Double Bedded, AC
Rs. 2200/-
 
 
Four Bedded, AC
Rs. 2800/-
 
 
Double Bedded AC Deluxe
Rs. 2200/-
 
 
Four Bedded  AC Deluxe
Rs. 2800/-
 
Shakti Bhawan
Dormitory (Per Bed Basis)
Rs. 150/-
 
Trikuta Bhawan
Dormitory (Per Bed Basis)
Rs. 150/-
 
Ashirwad Bhawan
Dormitory (Per Bed Basis)
Rs. 150/-
 
Spiritual Growth Centre
Double Bedded, AC
Rs. 1900/-
 
 
Suite
Rs. 3300/-
 
 
Dormitory  (AC) (Per Bed Basis)
Rs. 200/-
Adhkuwari
Sharda Bhawan
Double Bedded
Rs. 800/-
 
Shailputri Bhawan
Dormitory (Per Bed Basis)
Rs. 150/-
Sanjichhat
Mangla Bhawan
Double Bedded
Rs. 1200/-
 
 
Dormitory (Per Bed Basis)
Rs. 150/-
Bhawan
Main Bhawan Complex
Double Bedded
Rs. 2400/-
 
 
Four Bedded
Rs. 3400/-
 
Vaishnavi & Gouri Bhawan
Double Bedded 
Rs. 1100/-
 
 
Four Bedded
Rs. 1600/-
 
 
Six Bedded Hut
Rs. 2300/-
 
Manokamana Bhawan
Dormitory (Per Bed Basis)
Rs.150/-

Extra Person Charges at Location